Articles with the topic: huntingtin-structure

The cause of Huntington's disease has been known since 1993, but the physical structure of the healthy huntingtin protein proved difficult to discover until now. German scientists have now revealed the shape of the huntingtin protein for the first time. Although the structure of the mutant form of the protein was not investigated, this study provides an excellent platform to build upon and will boost drug development efforts.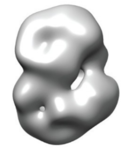 Figuring out the shape of a protein can help scientists understand how it works and what goes wrong in disease. Huntingtin, the protein that causes Huntington's disease, has been an elusive target. A recent study using electron microscopes offers a striking glimpse of huntingtin, paving the way for future work.