Articles with the topic: rna-translation

Researchers have long believed that the Huntington's disease gene causes problems by telling cells to make a harmful protein. Intriguing new animal work from researchers in Spain suggests we might want to look at more than one suspect to completely fix the problems caused by the HD mutation.

Researchers are hard at work figuring out exactly how the expanded Huntington's disease gene causes harm. Recent work from a UK group has uncovered another clue to help solve the mystery. It turns out that faulty processing of the huntingtin 'recipe' produces a short, harmful fragment of the huntingtin protein.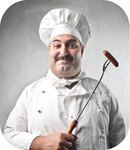 Everyone has two copies of the huntingtin gene but Huntington's disease is caused by a copy that's extra-long. New research shows that cells have different controls for how the normal and extra-long instructions are used to make protein. These controls on the protein-making process may be targets for developing drugs for HD.