Articles with the topic: exercise

A news article reports that a "breakthrough" program of physical, mental, and social stimulation could "halt Huntington's progression". Sounds pretty exciting — but does the science back up the hype?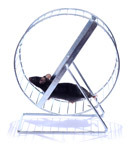 We know that exercise slows down symptom progression in HD mice, but we don't know why. New research has shown that exercise boosts a cellular recycling process in mouse muscle. These findings could increase our understanding of HD and help develop drugs.

We all know that exercise and staying active are good for everyone, whether or not they are at risk of developing HD. A new study of lifestyle activities in people with the HD mutation suggests that staying active is even more important in HD, and that passive habits – especially during the teenage years – might be one factor that can cause earlier onset of HD symptoms.