Articles with the topic: autophagy

What happens when you have a broken part in a machine? You fix it! A new study shows that increasing the activity a critical piece of machinery called 'mTORC1' in a mouse model of Huntington's disease leads to improved motor problems and brain abnormalities associated with the disease. These recently published findings may offer scientists a new target for therapeutic development in HD.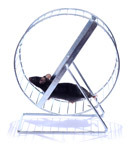 We know that exercise slows down symptom progression in HD mice, but we don't know why. New research has shown that exercise boosts a cellular recycling process in mouse muscle. These findings could increase our understanding of HD and help develop drugs.

Build-up of unwanted chemicals in cells is one way the HD mutation causes damage to neurons. A cellular recycling process called autophagy is crucial to getting rid of these harmful chemicals. Now researchers have found a way of identifying safe drugs that can increase the rate of garbage disposal in HD.