Articles with the topic: rhes

What happens when you have a broken part in a machine? You fix it! A new study shows that increasing the activity a critical piece of machinery called 'mTORC1' in a mouse model of Huntington's disease leads to improved motor problems and brain abnormalities associated with the disease. These recently published findings may offer scientists a new target for therapeutic development in HD.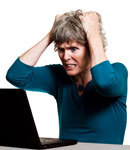 A recent press release from the University of New Orleans (UNO) claims its researchers have discovered a "way to delay symptoms of deadly Huntington's disease". Music to the ears of HD family members everywhere. But does the science live up to the hype? The short answer, sadly, is no.