Articles with the topic: cannabinoids

Cannabis, or medical marijuana, has been touted as a treatment for lots of conditions, and Huntington's disease is no exception. Whenever it hits the news there's a lot of interest, and recently cannabis found the spotlight again with videos claiming it can reverse the nerve cell damage in Huntington's disease. These are extraordinary assertions that deserve to be explored.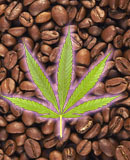 Recent news stories suggest that Caffeine might be harmful to people with the Huntington's disease mutation, while others claim that Cannabis might be helpful. Here's the lowdown on the science behind these stories, and why we think that a third 'C' - Caution - might be the best medicine when it comes to news stories about HD 'breakthroughs'.