Articles with the topic: brain-connections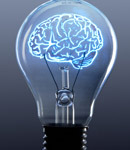 Leora Fox on November 04, 2015
Though many scientists have focused on damage to a part of the brain called the striatum as a source of HD symptoms, this is a narrow picture of what changes in the brain during HD. A new book provides a summary of many research techniques over a hundred years that have led to a more complete image of HD as a disease affecting the entire brain.

Scientists can now reprogram human skin cells to make working cells that resemble 'medium spiny neurons', the type of brain cell that is most affected early in Huntington's disease. We're still a long way off from being able to replace the brain cells that are being lost in HD, but this research is an important step down that path, and is a great tool to study HD.

The symptoms of HD are caused by damage to the brain, but not all parts of the brain are affected equally. This raises an important question - if we had a treatment that could help only a small part of the brain, which part would we pick? A new mouse study from William Yang, at UCLA, attempts to answer this question.